Make these easy DIY popsicle holders to save yourself a headache and a huge mess.
This project is so easy and such a breeze. Begin by cutting your coordinating fabrics into 2.5″ x 12″ pieces. You'll then take your pellon and sandwich it in between the fabrics. Sew both sides and if you'd like, sew the top and bottom.
Next you'll want to create your hole for your tag. I used a Crop-a-Dile but this step is totally optional. I just pierced the hole and then put a brad in the middle and pressed. 
Next, line up the edges and sew again. I left a 1″ tab on the top just for a contrast in the fabrics. Cut the edges using pinking sheers or you can use standard scissors, just be wary of fraying. If you don't have pinking sheers, just use some hem glue and it'll keep your edges nice and solid.
After you've sewn up the sides, add your popsicle and your gift tag. Pass them out, wash them when they're dirty and reuse them. Such a good alternative to a paper towel and great for our environment.
Supplies
2 Coordinating Fabrics 2.5″X12″
Fleece Pellon 2.5″x12″
Sewing Machine
I just pretty much did whatever the fabric would let me do with this project, be creative and do whatever you'd like for your own custom DIY popsicle holder. Happy Summer and Happy Sewing!
Let's also settle a debate, what do you call them? I call them otter pops and my husband has always called them ice blocks. The ice block is rubbing off on my kids and I don't know if I can handle that 😉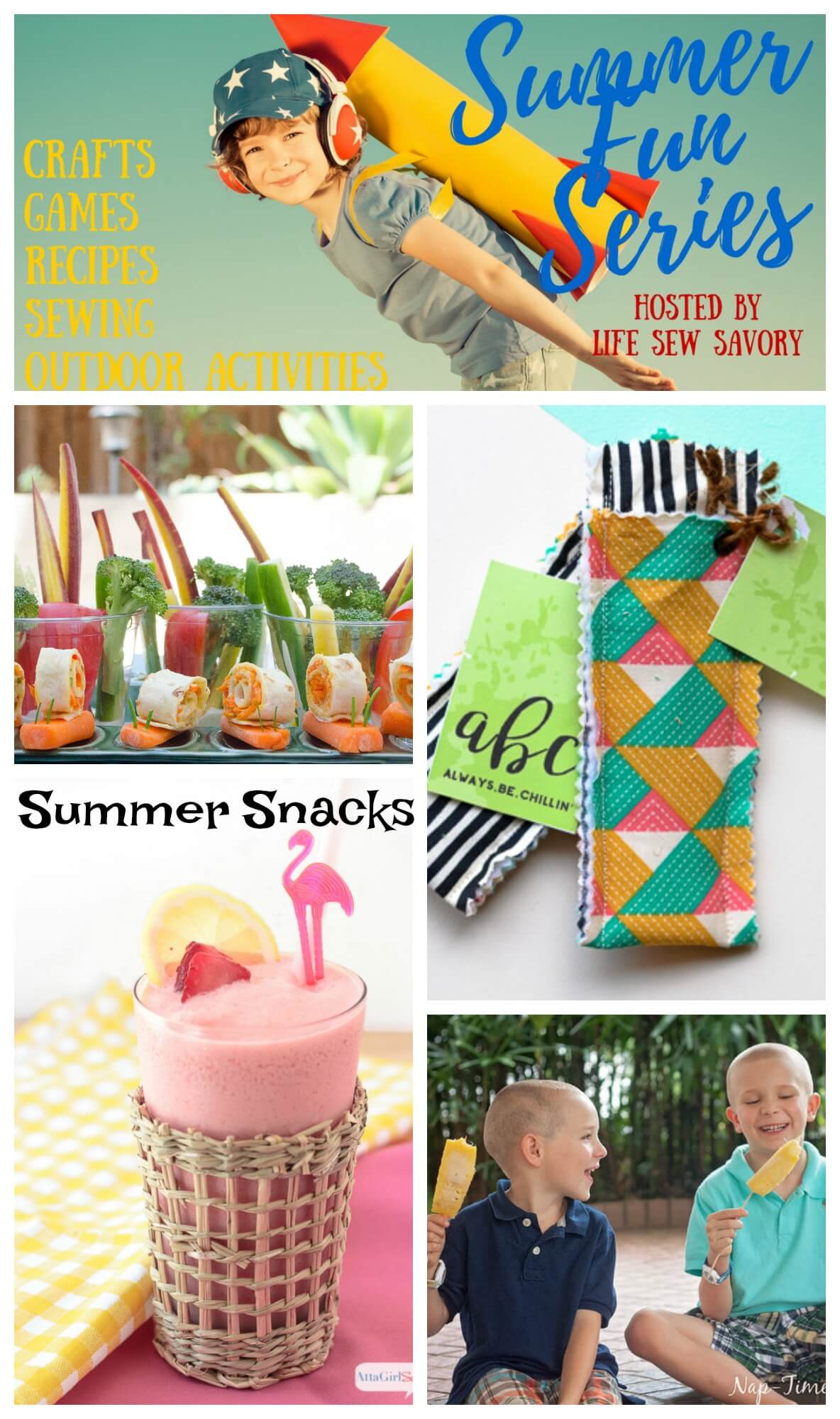 DIY Popsicle holder with free printable from See Lindsay
Frozen Strawberry Lemonade from Atta Girl Says
The cutest Hummas Veggie Snails from Chef Sarah Elizabeth
Frozen Pineapple from Life Sew Savory
You can also check out all the other craft, sewing and food posts from the Summer Fun Series HERE on Life Sew Savory.